It's not very frequently my brother, my dad, and I get our classic cars together in the same place. 2002 was the last time that the Mustang and the Impala were to together for an official "backyard photoshoot", and I can't recall ever taking a picture of all three of our cars together. My dad David has several classics in his garage, but when he heard I was driving my '67 Mustang over to my twin brother Nick's house, he couldn't resist taking out his '72 Vette out for the visit.
The big white car is my brother Nick's 1965 Impala SS. He bought the car in 2001 (his first car) and it had a 283 small block Chevy and a powerglide transmission. After running a 327 in it for a short time several years later, he pulled the trigger on a LS swap (L92 6.2L) matted to a 4L80E transmission. He has done a bunch of steering, suspension, and braking upgrades as well. It's fast as hell. You probably wouldn't guess it from the lineup, but it is very likely the fastest car in the bunch.
My dad's 1972 Corvette Sting Ray has a modern ZZ4 crate engine and a 5 speed transmission. With the t-tops off on a warm summer night, there is no better driving experience. He's running 17" American Racing Torq Thrust 2s all the way around.
I've had my Mustang since I was 17. It was my first car. I just finished doing a bunch of updates to it this past summer, including a new 14/1 Borgeson steering box, solid strut rods, sway bar, disc brakes all the way around, and new exhaust. I feel like I've got her pretty dialed in now!
I took these photos at Nick's house just as the sun was going down. The orange color in the sky was partly due to the smoke from the fires that have been lingering in the Pacific Northwest this summer. This made for an especially nice backdrop for some quick photos before the sun dropped below the horizon.
I always get asked if I enter my car in car shows. My response is always the same: I drive it to car shows all the time, but I am always a spectator, not a participant. The same goes for my dad and brother. All of our classics are "driver quality", and while we really enjoy our cars, they definitely aren't just collector items. We drive them.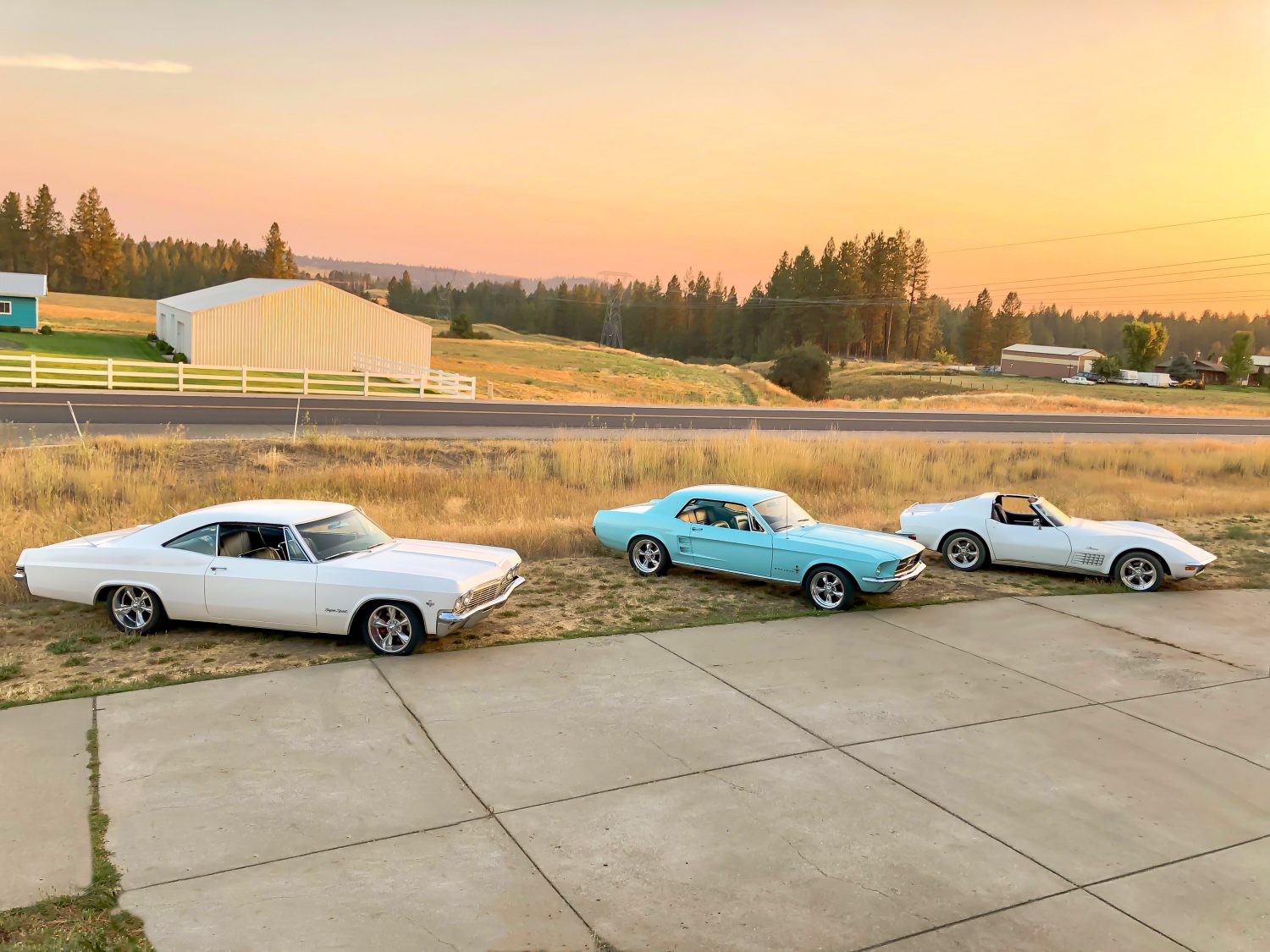 It was a really fun night to get together and drive the cars together. Hopefully we will get a chance to do this again with our classics not pictured.