It certainly doesn't qualify as a sleeper, but from the exterior, this 1968 Charger R/T looks factory original. It almost is, with the exception of some engine internals that put the HP totals to just over 500 with the big block 440. Perfect wheels, perfect stance, perfect muscle car.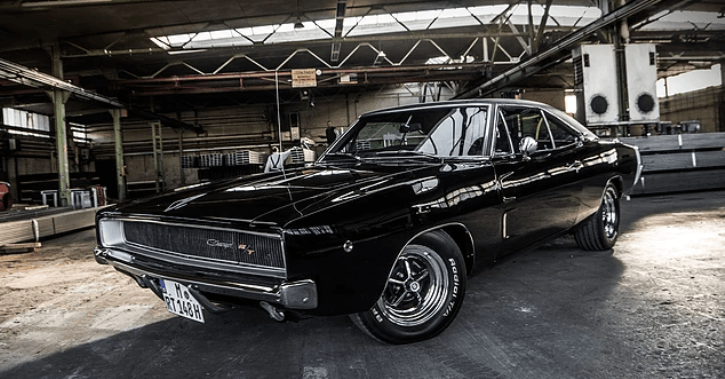 Everything about this Charger screams American muscle, so you'd never know by inspecting this build that it was actually completed by a super talented team of builders in Germany, Kult Cars. From the custom chassis, 4 link suspension, four corner discs, this vintage muscle car can hang with the most modern cars around the track. And, I'm guessing it can rip down the quarter faster than most, too! Want your own Charger? Check out the classic cars for sale on our website.
Black on black was the color combo of choice on this build, and I especially like how the Charger appears to be completely factory original from the outside. Judging from this interior photo, this car probably looks and is better now than it was when it rolled out of the factory in '68.
The engine bay is pristine, and looks absolutely spotless. The big block 440 doesn't leave much room for any unnecessary components, but that is just fine. I suspect this engine is factory original and matching numbers, although I can't confirm. Everything appears to be stock, including the chrome air cleaner and washer fluid overflow reservoir.
The team at Kult Cars put together a sweet video of the completed Charger, and it's a must-watch!
The '68 is definitely my favorite year Charger. Those taillights are unmistakable, and in my opinion, are the best looking Dodge tail lights of any muscle car they ever made. Hat tip to Hot-Cars.org for their original post about this car.
Like what you see? Share this article!