From Classic Nation reader Sharie:
When I first met my husband, he told me there were two things he loved – making music and 68 Firebirds. The music thing I understood as it explained all the guitars and recording equipment he had, but when he said 68 Firebird, I thought he loved it like I love, well, pie or my Swiffer Wet Jet. I clearly had no understanding of his passion for "The Bird."
That was several Firebirds ago – and he is presently restoring two 68 Firebird Convertibles that will be "evil looking," and will probably shoot flames and outrun the Bat Mobile.
But, then IT happened and I have not seen hide nor hair of him every since Jolene, a red on red coupe that has taken the place of my Jaguar in the garage. When I first heard of her, I said, "What makes her so special?" He reacted like I was saying something bad about St. Jude's or Mother Theresa.
"Everything about her is special – she is the only one of her kind." "But why do you love her so much, she is only a 350?"
I got 'The Look.' Wives, you know what I mean.
"You're a 350 and I love you," he retorted.
Blink, Blink, Blink. Rub my face. Blink, Blink, Blind. Rub my face some more. "Really?"
But after I listened to the story and saw her for myself, I did understand why Jolene, was indeed, worth a price above rubies to him and possibly any other Firebird-ophiles.
My husband and a friend of his were doing some work at a fellow musicians home here in Nashville where we live and my husband picked up some boxes to take to the garage. He flicked on the light and there in front of him, as the clouds parted and a giant ray of light illuminated the garage and a choir of angels sang, sat a Solar Red on Red 350 Firebird Coupe – numbers matching, loaded with factory options, completely pristine as original as the day it was born – no restoration needed – the temptress I have since named, "Jolene," for obvious reasons.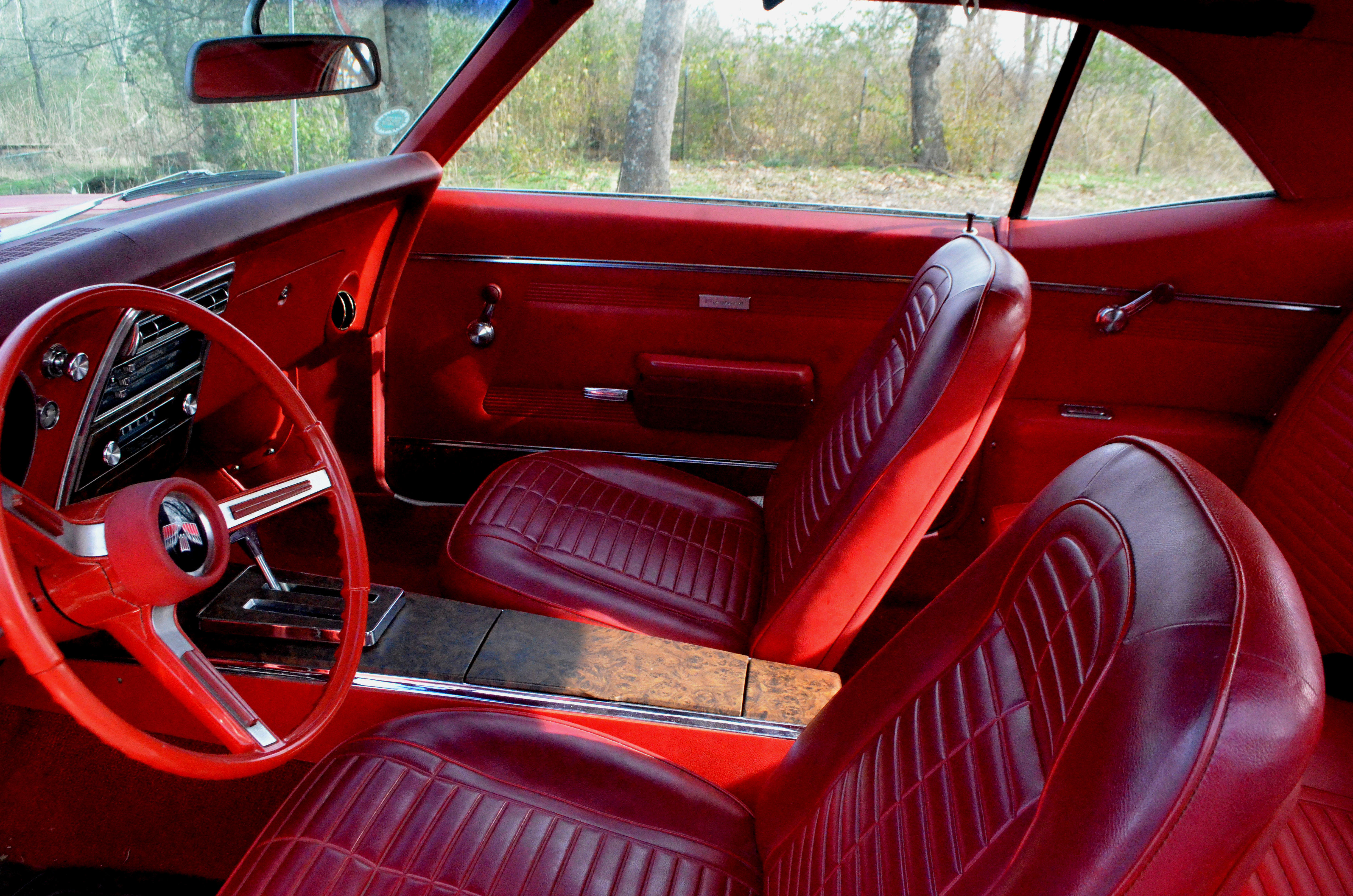 And when I say pristine and complete – it is as if it had been put in a giant Zip lock bag and put in a time capsule for preservation – something I wished had happened to me, I might add. The car belonged to a man who inherited it from his mother – and yes, she did drive it to church, but did it very fast and in style. Now, I don't believe in coincidence. I mean, how often does a man have a passion for a specific car, then, by chance, he happens to find a car like Jolene out of nowhere?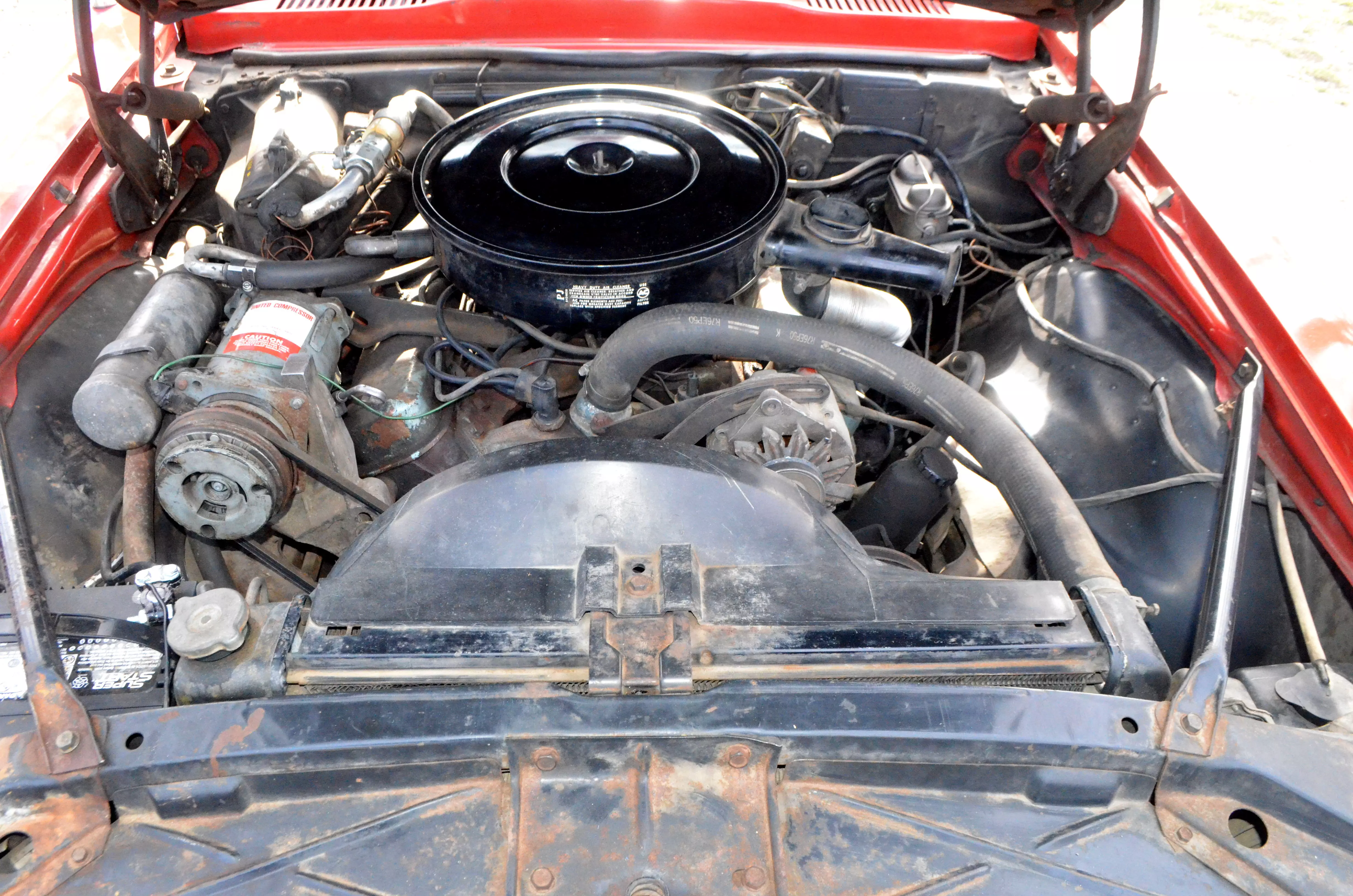 It seems like destiny or a greater force was at work here. There in the jazz player's garage, my husband was looking at a piece of Americana Muscle Car History, and I must say,s he is like the finest, perfectly-aged bottle of California red wine ever distilled. I knew there was no way for me to compete – she is just that beautiful and just that remarkable. So I just joined in on the affair. I began to go through the details of the car making sure the Cowl Tag and VIN and engine number lined up and looking for the Protect-O-Plate that was still in the glove box along with all the other right documentation. There is even the tank that goes with the spare tire, but also other options that were not standard like factory AC and factory-upgraded shoulder belts.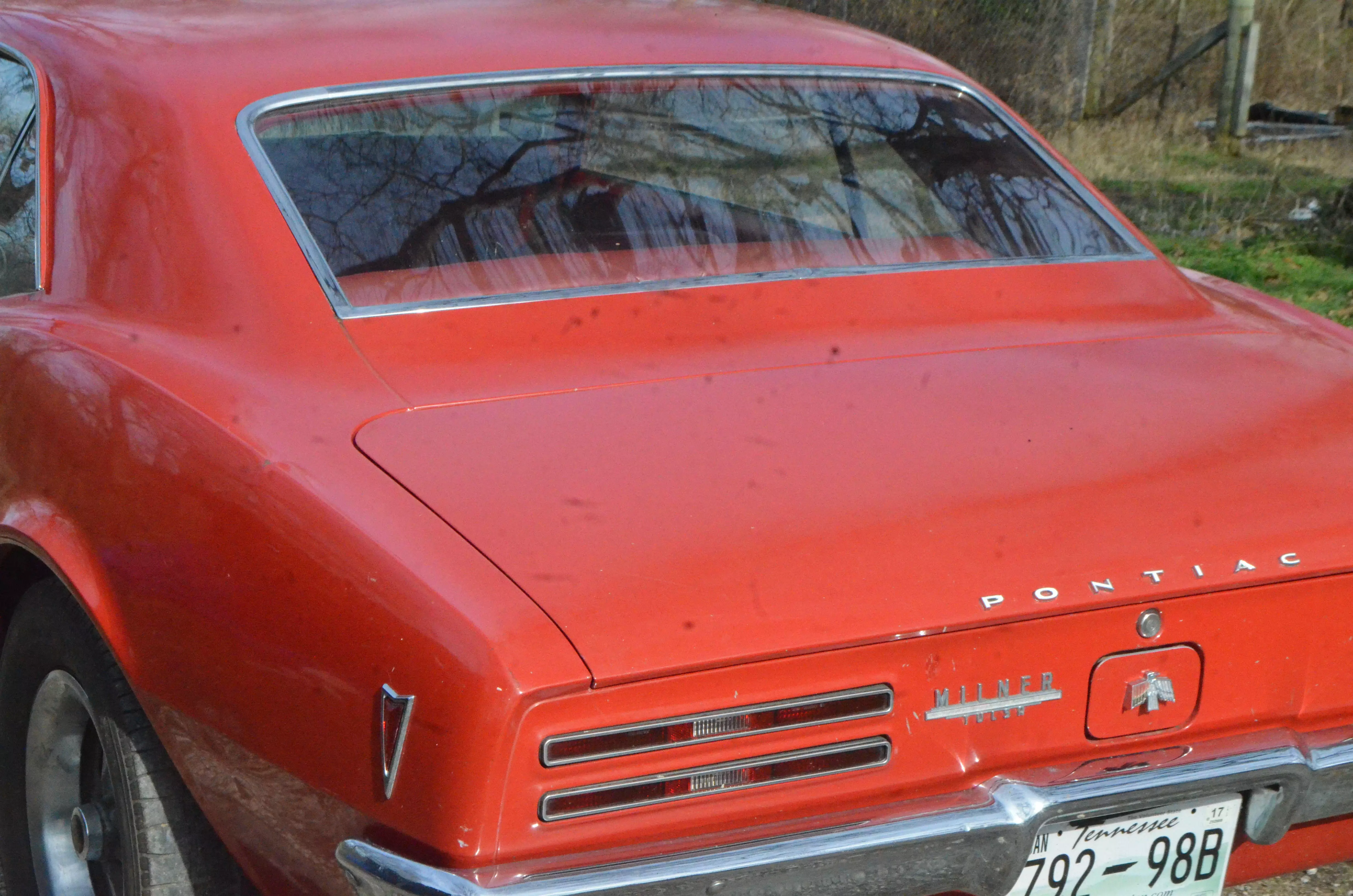 I shook my head in disbelief as the car checked out better than I could ever imagine. I then began the hard part – finding one to compare it too and have determined that chances are, it is the only Solar Red on Red perfectly-preserved, low-original miles (58K), loaded with factory-installed options, 350 Firebird Coupe remaining – and I can respect that – see her intrinsic historical significance in the Muscle Car world – as well as see her moxie – her striking elegance, and how she commands a mesmerizing gaze.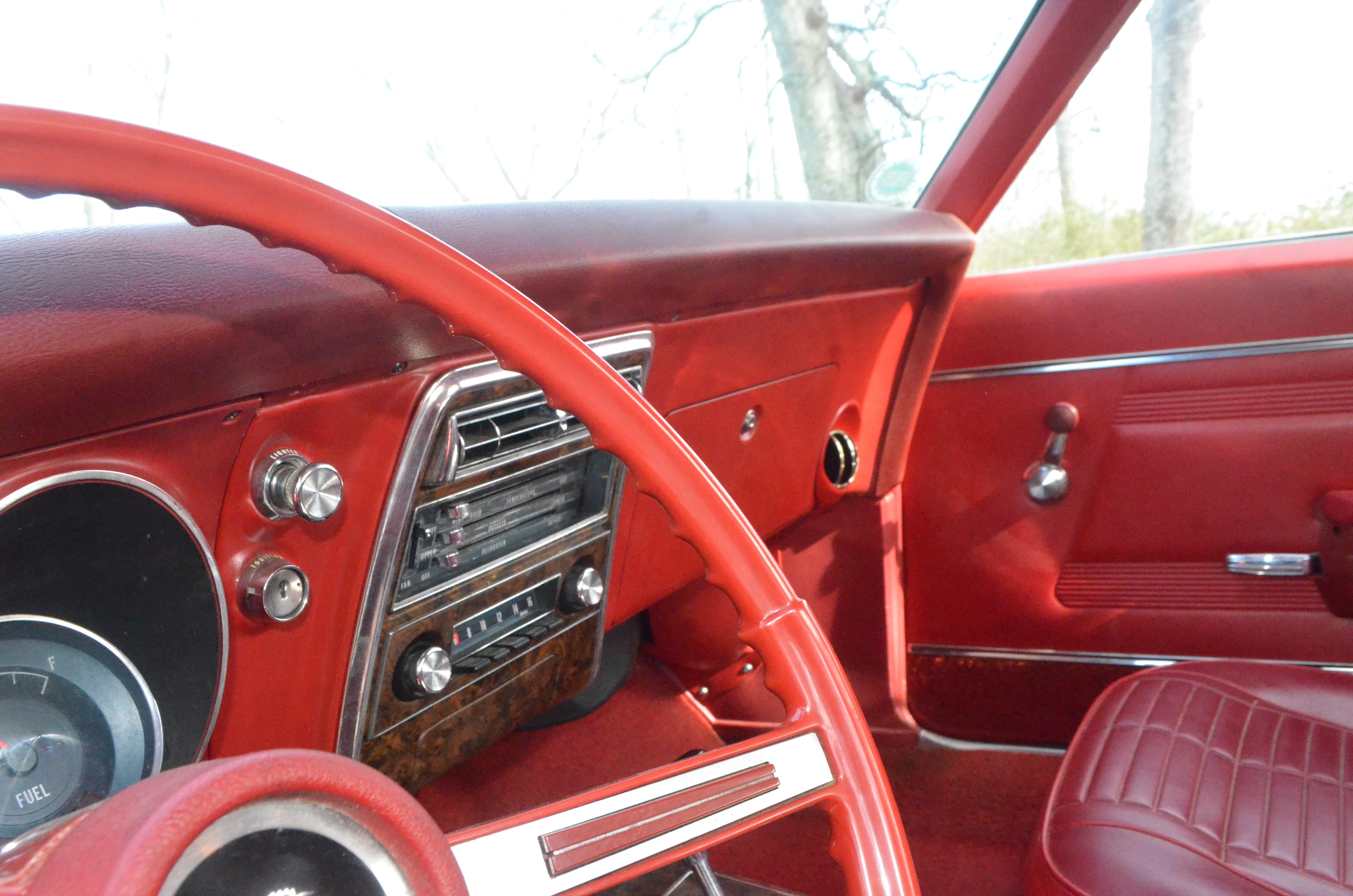 We are not sure what to do now. We have received so many phone calls as the word got out but my husband is hesitant to let her go. He said it should be owned by someone who also understands what they have and who will work to keep Jolenein the lifestyle she deserves.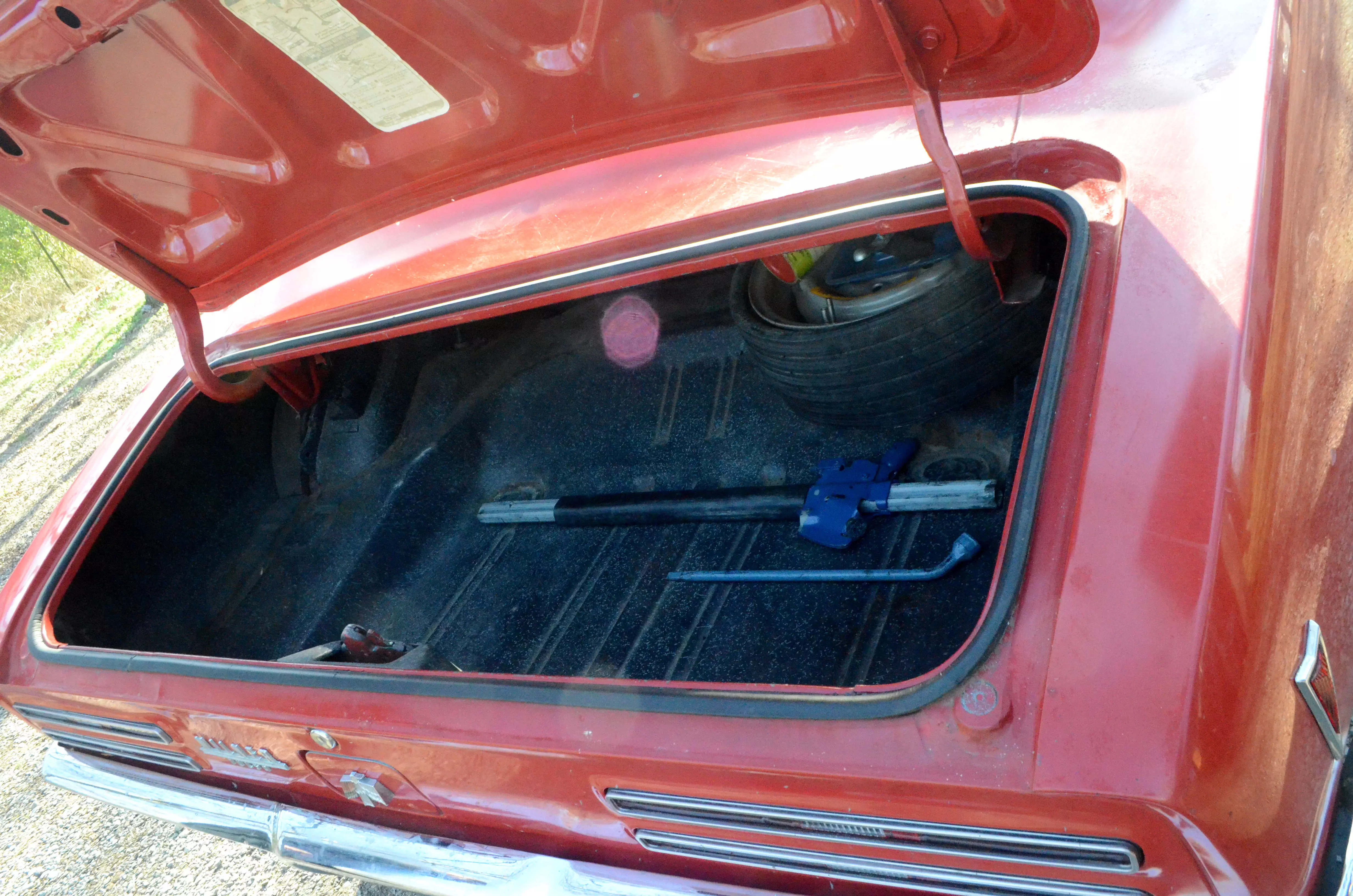 I can see how many Firebird Widow Wives (FWW as I call us) might resent such as voluptuous knockout taking all of her husband's time as he has spent the last couple of days and nights out in the garage talking to Jolene as he buffs her so lovingly – stroking her long, sexy body as she purrs and growls like a seductive mistress and he promises her that she will be taken care of and fully appreciated like the gem she is.
I really do consider myself lucky – at least he isn't into Porsches and is perfectly loyal to the two ladies of his life – me and Jolene … And he isn't calling it "his precious," YET! And I do, indeed, love to see the joy and glee in his eyes. If it is for me or Jolene, it's anyone's guess.