Kind of. More like "field find". A fellow Classic Nation member Bob tipped us off to this rough-but-intact 1963 Corvette Stingray Split Window that is sitting and apparently abandoned (just from the looks of it). There is no indication if this diamond in the rough is for sale or if the owner has plans for it (just like these barn finds).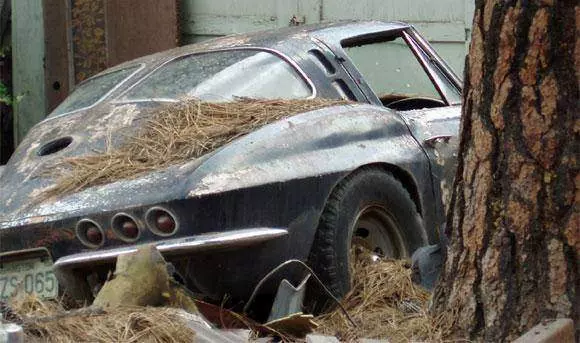 Don't you wish you could stumble onto something like this and trailer it home? Thanks for pointing this one out Bob. Feel free to let us know more details about it over at our classic car blog.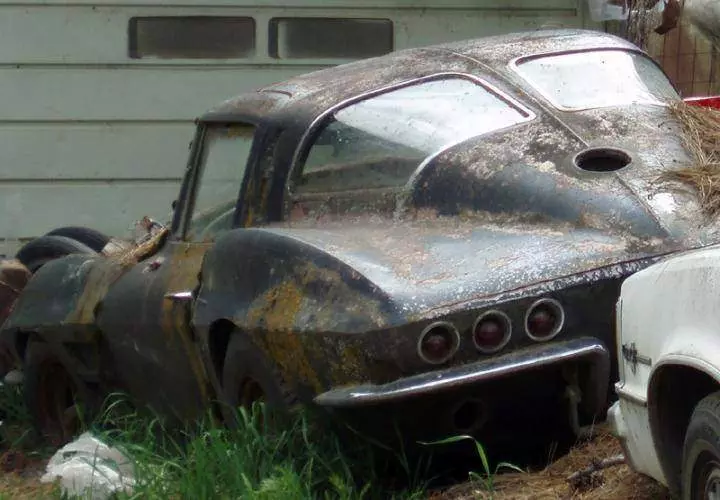 UPDATE:
We were able to dig up some more details about this really cool Vette. It's a 63′ fuelie with 360 HP, 11:25:1 compression, matching numbers car! Its also high tach, rock crusher, 4:56 differential. It's all intact!
Wow. This is exactly the kind of treasure that every car guy dreams about finding.
Oh yeah; did I mention that this car has been sitting in this exact same spot untouched? since 1975?
UPDATE #2
Last week, Nick and I confirmed the Vette was no longer sitting in the spot that it always had been. Someone posted on the old blog that they thought they had seen it on a trailer heading out of town. I thought we would never hear about this beauty any longer.
Then I got an email in my inbox.
"Someone had to save it.  It's safely indoors and will be restored.  I'll try to keep you up to date as it progresses"
Jim, wherever you are, we salute you. And we are all dying to know - how were you able to make this happen? And, what are your plans for it? I would love to see some more pictures of this project with so much potential!